Difference between revisions of "Supplementary Equipment"
Jump to navigation
Jump to search
 

(31 intermediate revisions by 3 users not shown)
Line 1:
Line 1:
−

Stephan Meßlinger (http://www.staff.uni-bayreuth.de/~btp918/) hat einen Headetadapter für HTC 7-Geräte so angepasst, dass ein beliebiges Mikrophon mit Klinkenstecker als Input fungieren kann.

+
 
 
−

Dazu waren Lötvorgänge innerhalb des Adapters nötig, da offizielle HTC-Adapter mit einem eigenen Mikrophon ausgestattet sind, das standardmäßig nicht deaktiviert werden kann.

+

, HTC .  

 
 
−

Die Lötvorgänge dienen zur Umgehung des internen Mikrophons und dem Anschluß des Signals des Klinkenstecker an den Audioeingan des Adapters.

+
 
+

 

 
+
 
+

 

 
+
 
+

 

 
+

 

 
+
 
+

 

 
+
 
+
 
+

an .
---
Latest revision as of 05:54, 28 April 2020
Directional microphone
For research projects with the aim to gather sound tracks in the field (e. g. IBF Orthoptera) and store them in the internal storage unit of a smartphone a directional microphone is necessary. Currently (in 2012), the head set adapters available for HTC 7 smartphones are not appropriate to connect directional microphones.
In cooperation with Stephan Meßlinger, University of Bayreuth, LS Experimentalphysik V, a technical solution is found to overcome this obstacle.
For use of directional microphones in the DiversityMobile context users should purchase a standard head set adapter.
This adapter has to be modified following the description in the connection diagram in relation to the brazing process: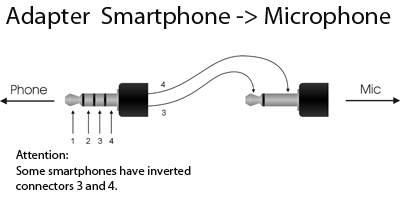 Problem with this microphone is that the background sounds are filtered out - and with them also the orthopteran sounds. As an alternative we are trying at the moment Zoom H2 Recorder, with which it is possible to record the orthopteran sounds, but at the same time all background sounds. These have to be filtered out afterwards.